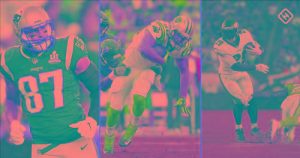 The season is still in its early days, so people might not still have their routine for waiver wire down just yet. In fact, some might be wondering when will the waivers clear in their ESPN and Yahoo leagues. But, even if the time is still not exactly known, aside from usually being in the period between 4 and 5 a.m., on Wednesday, there will be new players on the roster. Everyone playing the game wants them to be the best alternatives so for NFL betting for week 3 or those into fantasy football, the choice will be between J.J. Nelson, Samaje Perine, Chris Carson, Rashard Higgins and many others. Injuries created quite a commotion in the domain of the fantasy world during the previous week, but this also creates new opportunities which can be taken by anyone.
Even in those cases where players might not be good enough to have a waiver claim merit, a shrewd move would be to pick them up down the same waiver wire. This possibility is also related to the size of the fantasy league, but there still will be many opportunities to pick up some real gems from the free agent list. Here is a breakdown of the top potential options and opportunities, along with the Week 3 matchups. However, it is important to mention that only players that are owned in less than 50% of the Yahoo leagues will be taken into consideration.
Rashard Higgins, Browns, WR
Corey Coleman has a broken hand and Kenny Britt is not up to the task so the catcher for the Cleveland is Higgins. He is a second-year out of Colorado State and so far managed to get 11 targets meant for the 95 yards. So far, not much is known about him aside from the current successes. Cleveland is going to have a game with Colts really soon and Higgins is likely to be in a range of lineup as their WR3, which makes the same receiver a potential keeper.
J.J. Nelson, Cardinals, WR
Nelson has two TDs in as many weeks and is close to having his third. In Week 2 he managed to attain 120 yards and seems to be the No. 2 for his team, while it is also true he managed to finish the last year in great shape. Right now, his Week 1 TD occurred in garbage time and he was out-targeted last week by John Brown. Still, he has a lot of big-play ability and as long as the team is missing John Brown he will be a good alternative for a seven or more targets every game.
Chris Carson, Seahawks, RB
The era of Thomas Rawls and Eddie Lacy as a shared No. 1 did not last long in Seattle and now Carson seems like the best guy in the backfield. The team's coach Pete Carroll he wants to see more of Carson and this occurred on Sunday when the rookie ran 93 yards against the Oklahoma State. Now, chances are that his transition will not be this clean, being that Rawls is still involved. But, in spite of this, Carson is more than worth picking up.
Samaje Perine, Redskins, RB
There were no fractured ribs for Rob Kelley in Week 2 and more will be known by Week 3 about his status. But, the Redskin is playing on Sunday night and Perine is going to be an absolute must for the team. The rookie did not really impress during the last week with his run for 67 yards, but there was no fumble, which was his big problem in the pre-season.
Evan Engram, Giants, TE
With 4 out of 7 targets for 49 yards zone caught on Monday night, Engram is clearly going to be a big part of the offensive Giant's line. This is especially true for the red zone and with the entire Giant's injuries in Week 2 which took out Rob Gronkowski, Greg Olsen, Jimmy Graham, Tyler Eifert, and Jordan Reed, there are enough chances for him. Also, he does not have a stiff competition which makes him a good candidate for the potential TE1.