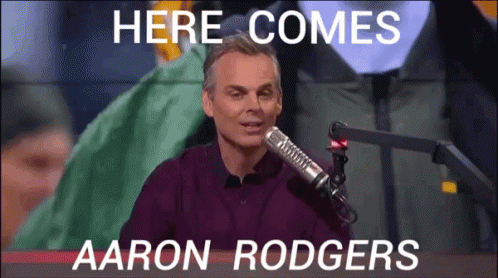 In the realm of East Rutherford, New Jersey, an indelible moment etched itself into the memories of the Jets faithful on Saturday night. The genesis of this memory was none other than the inaugural touchdown pass delivered by the esteemed Aaron Rodgers donning the Jets' revered uniform. A picturesque throw, executed with finesse, found its mark within a narrow aperture, igniting a fervent flame within the hearts of their devoted fans.
However, it was not this particular moment that propelled the Jets' supporters to the precipice of their seats, teetering on the edges with bated breath.
That pivotal moment materialized a series prior, as the newly acquired Giants linebacker, Isaiah Simmons, succeeded in dislodging the Jets' prized possession from the confines of the pocket, compelling him into a hasty retreat. Simmons, exhibiting remarkable athleticism, lunged towards Rodgers, grazing his foot and inducing the venerable 39-year-old quarterback into an unsteady stumble towards the sidelines.
This sequence of events triggered a cascade of painful recollections spanning half a century for the long-suffering Jets fans and all those affiliated with a franchise that has perennially endured a seemingly insurmountable curse. The impact was so profound that approximately 20,000 Jets enthusiasts in attendance at this Giants' home game instinctively clutched their chests, their collective breath held in a palpable display of trepidation.
Perhaps the sole individual capable of perceiving a glimmer of positivity amidst this disheartening spectacle was none other than Jets coach Robert Saleh, the valiant figure who had boldly staked everything on this endeavor.