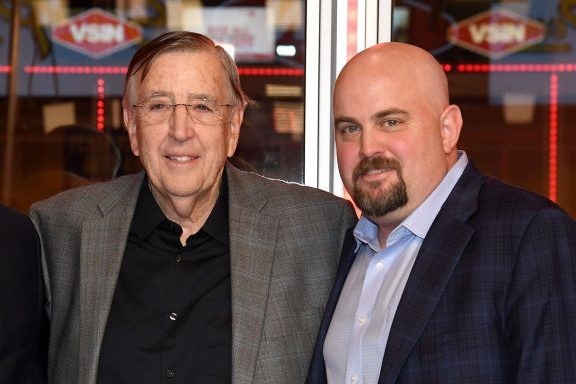 Brent agrees with ff-winners  AI on 2 of 4 picks.
January 11, 2020 01:08 AM
Last week belonged to NFL playoff road teams. Three — Tennessee, Minnesota and Seattle — won outright, while the fourth — Buffalo — forced overtime before losing to Houston.
Don't count on that happening again this week.
But there are tickets to be cashed on the road warriors because of some attractive spreads. VSIN's Steve Makinen, editor of "Point Spread Weekly," points out that teams that are plus-3½ to plus-9½ on divisional round weekend are 21-11-1 ATS in the last 33 games. All four road teams are priced in that range.
Saturday 4:35 p.m. EST (NBC)
Minnesota (O/U 44½)
at San Francisco (–7)
For me the Vikings are the hardest road team to back this week, and it's all about the schedule. After their sensational performance in New Orleans, they must saddle up on a short week against a team resting and healing for two weeks. Huge edge for the 49ers, who are planning on the return of injured DL Dee Ford and LB Kwon Alexander.
The unknown is quarterback Jimmy Garoppolo. He has played well, but this is his first playoff start. Remember, Lamar Jackson and Deshaun Watson lost their first playoff games last year at home. Since 2013, first-time starting QBs in the playoffs are only 6-17 SU.
Before taking a stand, check the condition of Vikings receivers Adam Thielen and Stefon Diggs. Thielen cut an ankle so severely in practice that he required stitches. Diggs missed two days because of illness.
I'm backing the home team. San Francisco 27, Minnesota 17.
Saturday 8:15 p.m. EST (CBS)
Tennessee (O/U 47)
at Baltimore (–9½)
Pretty simple. If Derrick Henry continues to terrorize defenses, Titans backers are cashing tickets. He smoked the Patriots for 182 yards, allowing Ryan Tannehill to win his first playoff start despite going only 8 of 15 for 72 yards.
The Ravens were upset by the Chargers in the first round a year ago, but this is a far more sophisticated offense put together by John Harbaugh's staff. Since their bye week Oct. 27, Lamar Jackson and the Ravens are averaging more than 35 points a game. They defeated four playoff teams and covered every victory except their three-point win over the 49ers.
The Ravens last lost Sept. 29, falling 40-25 to Cleveland. Thatwas 12 victories ago.
Ravens RB Mark Ingram is one of five former Heisman Trophy winners in this game. He's nursing a calf injury, which could affect Jackson's lethal array of option plays.
I don't see the Ravens losing, but I like taking the 9½. Baltimore 30, Tennessee 24.
Sunday 3:05 p.m. EST (CBS)
Houston (O/U 51)
at Kansas City (–9½)
The Chiefs are the flavor of the weekend. Flashy quarterback, brainy coach and an improved defense. A year ago, they smoked Indianapolis and Andrew Luck 31-13 in the divisional round. What's not to like?
Well, let me take you back to Oct. 13. Patrick Mahomes and the Chiefs roared out to a 17-3 lead over the Texans after 15 minutes. Deshaun Watson and the Texans put up 20 points before the half to lead 23-17. Mahomes and the Chiefs regained the lead in the third. And with 14:49 to play, Watson drove the Texans 93 yards, overcoming three penalties along the way and scoring the winning TD himself.
Making plays at crucial times is the key to winning football games, and we watched Watson do it again last week, trailing Buffalo 16-0 before winning in OT.
An injury concern exists with WR Will Fuller. He missed last week, and the Texans need him to balance the field with DeAndre Hopkins.
I like the Chiefs to win the rematch, but give me Watson and two scores all day long. Kansas City 30, Houston 27.
Sunday 6:40 p.m. EST (FOX)
Seattle (O/U 46½)
at Green Bay (–4)
I might pick the Seahawks to win outright except for the weather. The kickoff forecast at Green Bay is 23 degrees.
Russell Wilson's kryptonite is a temperature below 30. In three such games, he has thrown for four TDs and six INTs, and his lone win came when the Vikings shanked a game-winning field goal as time ran out.
This game will be close because the Seahawks have perfected that art. In their 17 games, 13 were decided by one score, including last week's wild-card win at Philadelphia.
Aaron Rodgers isn't the Aaron Rodgers we once knew, but the Packers' defense will leave Wilson yearning for his offseason home in San Diego. Green Bay 23, Seattle 17.
I am picking all four home teams to win just as they did a year ago, but I think two dogs — Tennessee and Houston — will cash tickets. And that's what it's all about. Good luck.
---