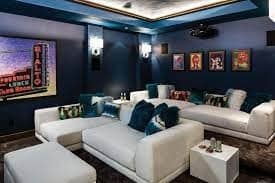 If you have an active social life and want to take on party hosting duties, you'll need the right setting. When you're ready to buy your first home, upgrade your current property or find a new place to rent, choose a house that will be the ideal backdrop for your parties and celebrations. FF Winners has some tips to help you on your quest to find the perfect entertaining home.
Focus on a Stress-Free Search
Buying a home can be stressful, so you'll need to be proactive to avoid pitfalls. Start by getting a mortgage preapproval. You'll have a better idea of how much you can borrow for your home loan, and you'll also be able to move much more quickly if you find the right property for your entertaining needs. It may also be helpful to work with an experienced real estate agent and broker who can guide you through the process.
Look for an Open Concept Layout
When it comes to home features for celebrations and gatherings, look for properties with an open concept layout. An open floor plan will feel more spacious and allow guests to mingle easily throughout the rooms. Everyone will feel like they are in the center of the party's action in this style of home.
Choose Properties With Backyard Potential
Your new property's backyard is also an important feature for future entertaining. If you have plans for summer cookouts or outdoor barbecues, look for homes that have decks or patios. Make sure there is ample room in the backyard for your guests to enjoy the festivities. The property's outdoor space can be a blank canvas for your future party décor and ideas.
Find an Amazing Kitchen
Another key element that makes entertaining more fun is a great kitchen. Look for a space that can handle everything you have to do to create an incredible celebration. Party hosts who love to cook should look for high-end kitchen appliances and plenty of counter space. Kitchens with lots of seating options, such as a breakfast area or an island with bar seating, are also ideal for entertaining guests.
Choose a Utility Package Ideal for Entertaining
Once you find the perfect home, you'll also need to consider its connectivity. It's easier to entertain guests if you have an optimal utility package that has the capability for smart home technology. Review the coverage area and average maximum speeds of internet providers in your state. The best option is fiber optic internet service, which is about 10 times faster than DSL. If you bundle your internet with a TV package, you can save on monthly expenses.
Find Reputable Movers
When you're ready, you'll also need to find quality movers. Connect with moving companies in the local neighborhood by searching online and reading customer reviews online. Don't book anyone unless they offer a written quote, not just a phone estimate. The movers should come to you and perform an in-home inspection to get the most accurate quoted rate.
Get Ready to Entertain
After you're settled in, you can start getting ready to host in your new digs. Make sure that your furniture is in good condition before inviting people over. You may want to look online to find a nearby furniture cleaning service to give your couch, love seat, and/or chairs a good deep clean. Look for reviews with before and after pictures to get a better sense of the quality each company provides, and ask about the chemicals they use. Then, keep their number handy in case one of your partygoers gets a little careless with the guacamole.
Have fun decorating your new place to match the occasion. Keep your space clutter-free so your guests can move around easily. Set up an easy-to-maintain organization system for your new home so cleaning is more manageable before a big party.
Social butterflies need a picture-perfect home for celebrations and soirees. Take your time when searching, moving in, and setting up your space for your next big event. And if you and your friends will be joining a fantasy football league, get expert picking advice from FF Winners. Then, you'll have bragging rights when you host those epic football parties throughout the season.