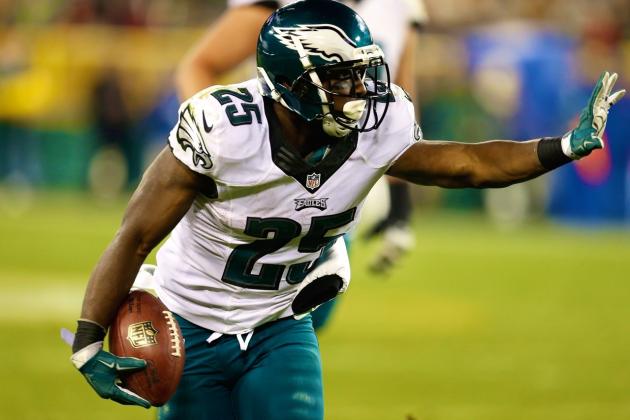 When ESPN's Adam Schefter reported Thursday night that the Eagles have agreed to trade All-Pro RB LeSean McCoy to the Bills for LB Kiko Alonso, it came as a major shock to many NFL observers: "How could the Eagles, on the brink of Super Bowl contention, let their best player go?"
But Las Vegas sports books barely blinked. Neither the Westgate LV SuperBook nor MGM Resorts, in fact, made any adjustments to their Super Bowl odds. Station Casinos shortened the Bills from 30-to-1 to 25-to-1 and kept the Eagles at 22-to-1. The only move made at The Wynn was a lengthening of the Eagles' futures price.
"No movement on Bills – they are already low at 50-1 due to bets," said Wynn sports book director John Avello. "We can't go much lower until they show they are a contender. We took Philly from 15-to-1 up to 20-to-1. Who will run the ball for them?"
Right now, those running the ball for Philly are Darren Sproles, Chris Polk and former Oregon Duck Kenjon Barner.
Apparently, McCoy and Eagles coach Chip Kelly's relationship had soured recently, and as we saw last season with All-Pro WR DeSean Jackson, you either get with Kelly's program or get out. In this case, Kelly was able to grab another one of his Oregon guys in Alonso — he now has nine former Ducks players on his Eagles roster.
Kelly's offensive system has proven to be effective with interchangeable parts, and by trading McCoy and earlier releasing DE Trent Cole and CB Cary Williams, Philly is projected to be $48 million under the 2015 salary cap. As great as McCoy has been, the Eagles should be able to find a suitable system back either in the draft or through free-agency.
Among the interesting free-agent RBs available is C.J. Spiller, who now knows he won't be back with Buffalo. The prized free-agent back is DeMarco Murray, and Kelly could kill two birds with one stone by signing him – fill the void left by McCoy and make the Cowboys weaker within the NFC East.
For the Bills, new coach Rex Ryan has inherited a defense on the brink greatness, and a back like McCoy boosts his chances to compete with the Patriots in the AFC East. The Bills have reportedly also made a trade with the Vikings to acquire QB Matt Cassel.
Bills fans should be excited about 2015, and Eagles fans should trust that Kelly has a plan. After taking over a 4-12 squad, Kelly has gone 10-6 in each of his first two seasons. McCoy's replacement may not have 2,146 yards from scrimmage like McCoy did in 2013, but the system will produce numbers regardless of who in running the ball.
The best bet is that this trade is a win for both teams.
---