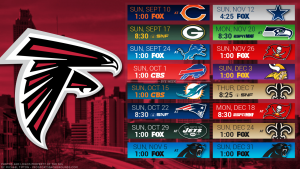 Some Las Vegas oddsmakers have sent the "over/under" on the win total for the 2017 Atlanta Falcons at 9.5 wins. At least initially, that number seems ridiculously low, given the fact that this team finished with an 11-5 record last season, and beat the Dallas Cowboys and Green Bay Packers en route to representing the NFC in Super Bowl LI this past February.
And yet, we're not only telling you to bet the "under," wagering that the Falcons will win less than 9.5 games this year, but we're also saying that the 2017 Atlanta Falcons will not only fail to win the NFC South division this year, but also fail to make the playoffs.
Here's a fact for you: over the last 20 years, the team that lost the Super Bowl failed to make the playoffs 9 times. Over the last 15 years, the Super Bowl loser failed to make the playoffs the ensuing year. In other words, it's basically a 50/50 chance that if you lose the Super Bowl, you're not making the postseason the following year.
But specifically, in terms of the Falcons, there are two big reasons why we're confident enough to make such a statement:
1. We think everyone overlooked an Atlanta defense that really wasn't all that great
2. The difference between Kyle Shanahan's offense and Steve Sarkisian's offense is going to be jarring, in a really, really bad way if you're a Falcons fan.
While the offense was busy putting up franchise-best numbers last season, the defense finished 26th in defensive DVOA last season, 25th in total yards allowed per game, and 28th in passing yards allowed per game. They allowed the fifth-most touchdown passes in the NFL to opponents last year, and didn't have anyone on the entire team (outside of Vic Beasley Jr.) register more than five sacks. Does that sound like a "good defense" to you? In fact, name a player on the Falcons defense, outside of maybe Beasley, who opposing teams really need to worry about. If you polled 100 relatively knowledgeable NFL fans, could they name more than three players on the Falcons defense?
Atlanta plays in a division where they'll face Drew Brees, Cam Newton, or Jameis Winston in more than a third of their games this year; that's not even mentioning the fact that Tom Brady, Aaron Rodgers, and Russell Wilson are all on teams who are on the Falcons' schedule this year as well.
And before you say: "well, Atlanta can win those games in a shootout," that brings us to the Shanahan-Sarkisian issue, with that issue specifically being the fact that the Falcons are replacing one of the BEST offensive minds in the NFL with someone who has NEVER called plays or ran an offense in the NFL at any point in his career.
What Shanahan did for the Falcons offense last year was his career's magnum opus. He found a way to masterfully utilize Devonta Freeman, Tevin Coleman, Taylor Gabriel, Mohamed Sanu, the incomparable Julio Jones, and a veritable pupu platter of tight ends, taking all of those random ingredients and concocting an offering in a way that would've made an Iron Chef proud.
But Shanahan is gone, and being replaced by Steve Sarkisian. Here's what you need to know about about Sarkisian: 1) the last time he was a head coach, he was fired because of a history of alcohol abuse; and 2) Sarkisian has never been an offensive coordinator in the NFL.
In the three seasons prior to 2016, Atlanta finished 21st, 12th, and 20th in the NFL in points per game. So tell us what sounds more realistic: Sarkisian implementing another league-leading, well-oiled offensive juggernaut? Or Atlanta's offense reverting back to the mean, thanks to a coordinator who was so toxic that most college programs gave tremendous pause to the idea of hiring him?
So, scoff at our less 9.5 wins projection. Go ahead and overlook the fact that, in the three seasons before last year, Atlanta failed to reach nine wins, or the fact that they've ranked in the bottom six in the NFL in points allowed per game in three of the past four seasons.
We stand by our prediction that the Falcons will be suffering the "Super Bowl loser hangover" this upcoming season.