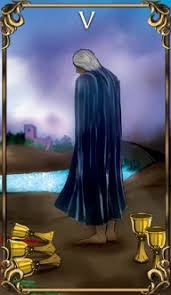 I just drew this card (at random, see facade.com) for Aaron Rodgers:
The card represents the critical factor for the issue at hand. Five of Cups (Disappointment): Suffering a loss and wishing for what might have been. Being crippled by sadness, grief, and vain regret. Indecision brought on by the feeling that you made the wrong choice. Ignoring what you still have. May suggest a broken relationship or tragedy. May also suggest a gift, inheritance, opportunity, partnership, or marriage, but one that falls below expectations.
Could this one card reading be any more accurate?