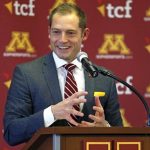 The Minnesota Golden Gophers made perhaps the best coaching hire of the off-season by landing former Western Michigan head coach P.J. Fleck. Fleck is only 36 years old, but he helped turn Western Michigan's football program around in only four years. He went 1-11 in his first season, but he was able to recruit at a high level, finishing with the 36th best class according to 247sports.com before the 2014 season. The Broncos finished 8-4 in 2014 and Fleck was named the MAC coach of the year. In 2015, he finished 7-5 but led the program to its first ever bowl victory with a 45-31 win over the Middle Tennessee State Blue Raiders in the Bahamas Bowl. Fleck was able to put together the 4th consecutive best recruiting class in the MAC, and the talent acquired from those four years really proved to be special in 2016.

The Broncos went undefeated in the regular season with a 12-0 record, then won the MAC championship, and qualified for an at-large bid to play Wisconsin in the Cotton Bowl.

They lost 24-16, but it was the best season in program history. Minnesota has talent and has competed in the Big 10 in the past, and they are in the much weaker west division. This is huge because they play Iowa, Illinois, Northwestern and Purdue every year. They also play Nebraska and Wisconsin, who are both steady, consistent programs but it is not nearly as difficult as the east gauntlet of Ohio State, Michigan, Penn State and Michigan State. Fleck is a proven winner, and a great recruiter, plus he plays a manageable schedule every year.
We think it will take a year or two, like it did at Western Michigan, for him to really get the program going with his system and his players.

The first few years may not be great, but once he establishes his program it very well could be a contender in the west every year.

We think Minnesota could be a serious contender in the Big 10 in a few years, and that also means they very well could be a dark horse playoff contender if they somehow knock off one of the dominant programs out of the east division.

Minnesota is going to go places it has never been with Fleck at the helm, as he is a great coach, recruiter and plays in the weaker division.

We think it is very likely that Minnesota will be a very good program in the future that teams such as Ohio State and Michigan can no longer take lightly.
lar