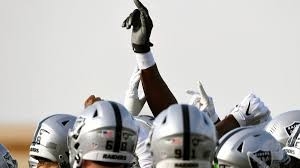 For

NFL fans

analyzing the Las

Vegas

Raiders' roster going into the 2023 season, it's time to start dreaming. With July's training camp right around the corner, there is a feeling that the worst is behind them. After all, the hope around Raider Nation hinges on having a successful rebound from an underwhelming 2022 season.
So what could happen? This article will look at three dream football scenarios for the Raiders in 2023 – from running backs dominating on offense to stellar defensive line play and more: anything can be possible if Coach Josh McDaniels puts his magic touch onto this team.
Raiders RB Josh Jacobs:
The tension between Jacobs and the Raiders over a long-term deal might last all summer; rumors exist that he could sit out training camp and even some of the preseason.
But the Raiders will likely find common ground and sign Jacobs to a long-term contract. At just 25 years old, Jacobs has at least four more productive seasons ahead of him while entering a contract season. He has already put up three 1,000-yard seasons and 40 touchdowns since he entered the league in 2019.
With Jimmy Garoppolo as quarterback, the passing game should improve, benefiting Jacobs and the running game. A better passing game keeps defenses from stacking the box, leading to bigger runs.
Raiders QB Jimmy Garoppolo:
The Raiders' greatest wild card right now is Garoppolo. The quarterback's injury history has been a problem his whole career, and there are concerns his lingering foot injury may keep him out in the preseason.
In an ideal world, Garoppolo's injury bug will not raise its ugly head this season, and he can start all 17 games. Jimmy G has not only been effective in terms of numbers in seasons when he has stayed healthy, but he has also led his club on long postseason runs, something Raider Nation is desperate for. He led the 49ers to a Super Bowl XLIV appearance and came up just short against the Rams in the 2022 NFC Championship Game, despite a lack of weapons around him. In Las Vegas, he has plenty of weapons.
Garoppolo is not the most flashy thrower, and he does not attempt many downfield passes, but he has demonstrated that he can win in the NFL. For the previous nine seasons, the Raiders have had a stat-padding quarterback, and although Derek Carr established practically every passing record, there was no consistency, and victories were few and far between.
Raiders' 2023 Rookie Class Makes Immediate Impact:
The Raiders have a promising rookie class, highlighted by edge rusher Tyree Wilson who has all the tools to make an immediate impact. Tyree Wilson joins Maxx Crosby and former All-Pro Chandler Jones on the defensive line.
The Raiders' second-round pick, Michael Mayer, might have an even greater influence on the team. Mayer was widely regarded as the top tight end available in this draft, and with the Raiders trading away Darren Waller to the Giants in the offseason, Mayer now has an opportunity to step in and instantly be a playmaker for Jimmy Garoppolo and the offense.
Conclusion:
The Raiders have much potential going into the 2023 NFL season. With Josh Jacobs likely returning, Jimmy Garoppolo staying healthy, and their promising rookie class, Raider Nation has plenty to be excited about. All three dream football scenarios are possible if Coach McDaniels gets this team to the next level in a very challenging division.
If all goes according to plan, the Las Vegas Raiders odds may improve as the season goes along. No matter what happens, though, one thing is certain: it's sure to be an exciting year for the Silver and Black as they strive towards greatness on and off the field.