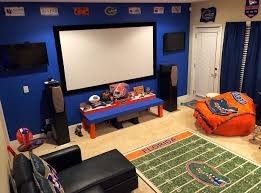 This year, use those pre-season months to create the perfect place to watch games, play fantasy football and host parties. You may already have a man cave or a spot for your family to watch football, but there are some updates that would take your NFL season to a new level. Whether you want to make a few simple changes or go for a complete overhaul, these upgrades are sure to give you inspiration for a better football experience this fall.
Comfortable Seating for a Crowd
Having your dream football man cave isn't about keeping it all to yourself. Make sure you have plenty of seating for when you invite your friends over to watch the game or host your fantasy draft. Armchairs and comfy sectional couches are great for hosting friends or even when you want to watch a movie with your kids. However, it can be difficult to give every seat a good view of the screen. If you have the space for it, install stadium-style seating. You can use comfortable chairs in any style and build a platform so the back row has a great view of the game. You can create as many seats as you need without sacrificing comfort or the view.
Pre- and Post-Game Fun
A man cave is more than a room with a big couch and a television. Create a space to hang out, play games and catch up with your buddies. Dust off that old poker table or dart set that's sitting in your garage and use them to create a perfect clubhouse for your friends to hang out before and after the game. Get a billiards or foosball table if you have the room, and include additional seating and tables around for those waiting to play or not watching the TV. You can even use an old video game system or used arcade games for some fun during half time.
Surround Sound Makes all the Difference
Face it, you can watch football on any TV, but adding a surround sound system will give you a more immersive experience during the game. There are many systems available today that won't break the bank and that you can install yourself. Depending on how the room is laid out and what kind of features you want, soundbars and speakers around your man cave will give everyone the full game experience through every play. A sound system upgrade is not just for watching sports, either. Your whole family can enjoy it whether they are listening to music, watching movies or playing video games.
Get Smart Technology
If you are into the latest tech trends, integrating some smart technology will really give you an edge for football season. Automating your man cave will help you create the ultimate cool space, as well as make things easier when you are getting ready for the game to start. For example, Wareable recommends the Belkin WeMo system, which can control almost anything you can plug into an outlet, or the Philips Hue smart lighting technology that you can program to change the lighting automatically. Or get the Amazon Echo, a device that lets you check news, weather, game scores or anything else through voice commands. If you have an iPad Pro or similar mobile device, you can usually sync any smart tech you have to it and control it all from one place. It truly is the future of man cave perfection.
Build a Wet Bar
Last but not least, you can't have a proper football-inspired man cave without a place for cold drinks. You may think installing a wet bar would be too pricey or require major renovations, but you can actually build your own small man cave bar to keep you and your buddies stocked with beer and cocktails all season long. HGTV offers several bar inspiration ideas, depending on how fancy or simple you want to get in your man cave. For an easy weekend project, use pallets or recycled wood to build a small bar, then bring in a mini fridge stocked with beer and some team-themed glasses. If you want to go a bit more elaborate, include a small sink and a built-in kegerator in the bar and add floating shelves to hold bottles of your favorite spirits.
---